COLLING – THE SOURCE OF FRIENDLY NUMBERS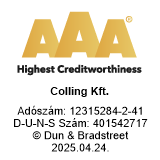 Change of ownership? Investment? Or are you just wondering if your business is running efficiently? We make decision making easier. We take a magnifying glass of your bookkeeping and uncover any weaknesses in your company.
Your own accountant without staff? Are you interested in an integrated accounting system that allows you to get up-to-date information about the current status of your company, even from home, in a matter of seconds?
How about a solution for payroll that reduces administration time, is safe, and is even more environmentally friendly? Moreover, your employees will be more satisfied.